Jobs in progress-updated March 29,1999
A stucco addition
Washington, DC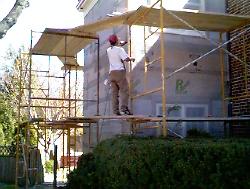 Self-furring lath is stapled

with a roofing stapler

and air compressor
How we make outside corners without corner beads.
In the old days, an outside corner in plastering was
called an "arris". An inside corner is called an "angle".


A wood strip-a 1X4 is set with a level and nailed.
Wall is filled and rodded off
After wall sets up overnight, strip is
nailed on the other side and filled.
When strip is removed, we have a
reasonably straight corner with out a
metal corner bead.
I quit using metal beads because
they rust and tend to split.
This is the old fashioned way.
It works.
Wall checked for straightness
with a rod.

A rod is straight-edge use to straighten
plaster.
After wall is rodded off
and sets up, it is rubbed
down with a float.
This makes the surface neat
and rough for a good bond
with the finish coat.
We're using a color finish
from California.
The base coat will wait a
week before the finish is applied.
Please come back for the finish coat.
Stucco townhouse
Alexandria, VA
Side wall browned.
We allow the brown coat to cure
1 week before applying the finish


Richard's House


We gutted 3 more rooms at Richard's
We're now browning.
We have some real fancy jobs coming up.
Please come back.


Richard works on the wiring.
I like Richard's T-shirts