Big hole first has 3.4 metal lath nailed on. Heavy lath prevents sagging. The original ceiling had rock
lath. Metal is used here for a thick, solid and strong
patch.
Molding plaster is gauged up with lime on the mortar board.
Ceiling is filled in a little at a time

.

You may have seen this before on my site.



Ceiling is checked and straightened with a rod

.


Still a long ways to go.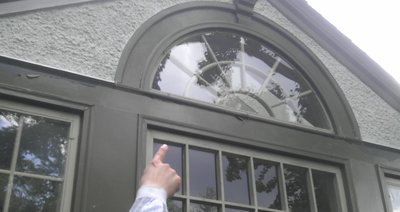 The new windows put on this addition never
had flashing, causing the windows to rot and the paint to peel.
The stucco was pulled off and replaced. Our dash on texture matches on the money.